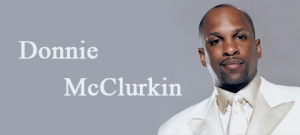 THE DONNIE McCLURKIN SHOW
Donnie McClurkin is one of the world's top Gospel music artists with over 10 million albums sold worldwide. Donnie won fame in 1996 with his self-titled album featuring the classics, Stand and Speak To My Heart. Before launching his solo career, he started the New York Restoration Choir and won notice with the album I See A World that contained his first rendition of Speak To My Heart. Other forever- classics include the gospel anthems, We Fall Down and Great Is Your Mercy, both from the top-selling Live in London and More CD released in 2000.
The acclaimed gospel performer won his first Grammy in 2004 for Again as the Best Soul Traditional Gospel Album. His double CD, Psalms, Hymns & Spiritual Songs, earned a Grammy in 2006 as Best Traditional Gospel Album. In 2010, he accepted his third Grammy (Best Gospel Performance) for Wait On The Lord, featuring Karen Clark Sheard from his We Are One: Live in Detroit CD. Other top honors include eleven Stellar Awards; four BET Awards, four NAACP Image Awards, three Dove Awards and has been a judge on BET's Sunday Best for six years.